$1 Shipping for orders over $14.95
(In Continental USA)
Dog Rules at Grandma's Prints
Each Dog Rules print is signed, packaged in a clear plastic bag for protection, and comes mounted in a high-quality double mat (outside mat dimensions either 8x10 or 16x20). They fit perfectly into any standard 8x10 or 16x20 frames.
To frame your matted print, simply discard the backing board that comes with your frame and insert our print as is. You now have a colorful, stimulating, framed piece of art, ready to hang. It's really that simple!
To add a special touch, order the personalized version of our Dog Rules prints (Click here for personalized prints). With this option, we'll incorporate your dog's name, or your friend's dog's name right into the print, as shown in the example using our own Lucy. Adds a wonderful, custom-made touch to such a unique gift!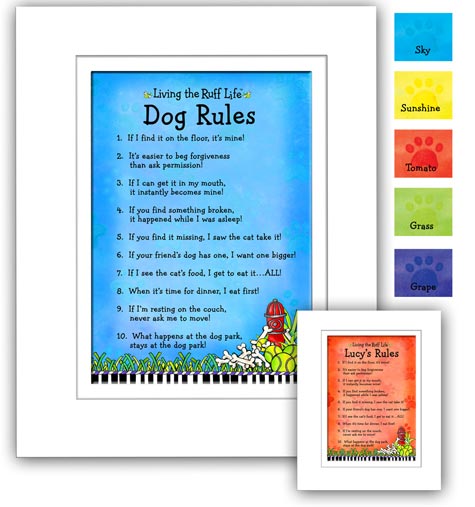 *Due to the rising cost of shipping larger items have $2.50 shipping surcharge.